24 Well Paying Work From Home Jobs You Can Start Today
This post contains affiliate links, which means I may receive a small commission, at no extra cost to you, when you make a purchase. Please, read my affiliate disclaimer for more details.
Making enough money to support your family, and the causes you believe in, if any, is everyone's dream.
It doesn't matter whether you are a stay home dad, a busy mum, or a college student, you can make extra money doing various tasks online to help you meet your financial obligations.
I'll be straight with you. A swift Google search on making money online will give you some strategies that are not legit.
They will demand some cash upfront and then entice you to work with them only to realize that you have been duped- The site was a scam and was only interested in stealing your hard-earned money!
Always have your guard on when working and searching for online work.
All is not lost, though. There are numerous legitimate ways you can make money online.
Online work is just like any other work. If you want to get paid, you must put in hours of hard work and dedication.
Here are the creative ways to make money online.
Quick ways to make money
1. Vindale Research. This site offers quick surveys with very competitive rates of pay. 
2. Survey Junkie. This is one of the most established paid survey sites. We love them! 
3. InboxDollars. If you want to make some quick cash watching ads, playing games or completing paid surveys you might like InboxDollars.
1)Become A Shopper
You can make money legally shopping online. It's easy to do impulse buying when you are shopping in a shop full of beautiful and attractive things.
Some companies will pay you to use their apps for shopping. You make money by earning some cashback and making additional money from your purchases. You'll be saving money by spending your money. You'll get to enjoy the better of the two worlds.
One way in which you can make money as a shopper online is by using Instacart.
How Instacart Works
You can make 10- $25 per hour.
Through Instacart, you have two options when it comes to working for them.
You can either work as a full-service shopper or an in-store shopper.
Full-Service Shopper
As a full-service shopper, you can shop on your own schedule. You would shop for and deliver customers' orders to their homes based on their specified delivery time.
Tips To Maximize Your Earnings
The best way to maximize your earning while working for an Instacart is to avoid driving far away from where you live. This will cut down the time you spend on the road thus enabling you to make more money per hour.
Then put more focus on a few stores so that you can master how things are arranged. If you know where each item is placed in a supermarket, you spend less time searching for the things you want to buy- this will increase your picking speed and your hourly rate will shoot up.
Major expenses for instar cat shoppers are gas, car maintenance, and auto insurance. If you shop closer home, you'll save a lot on gas.
Also shop in the stores that you are familiar with to avoid wasting time while making endless rounds in the store, trying to locate the things you need to purchase.
Instacart In-Store Shopper
As an in-store shopper, you will put together customers' orders to be ready for pickup.
Rather than having Instacart deliverers bring the groceries to them, customers can come to the store and have the groceries brought out and loaded into their car.
2)Get Paid To Watch Videos Online
You can earn between $ 100-200 per month across various websites and apps per month, depending on how much time you spend doing so.
Are you glued to your computer screen watching online videos and you feel guilty for wasting your precious time?
Well, you don't have to feel guilty anymore because someone is willing to pay you to do what you love- watching online videos.
One of the companies that can pay you to watch videos online is Inbox dollars.
How Inbox Dollars work
 ">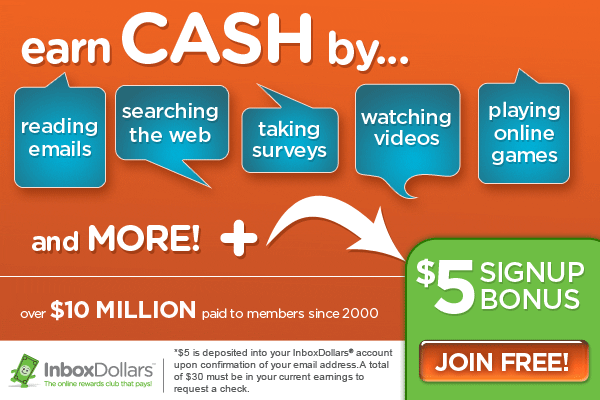 Inbox dollars connects its members with big brands, major film studios, and other companies, who are always on the lookout for consumers to see their upcoming movies, products, and services, and want individuals to watch their content, and then share the information with their online friends
If you watch the videos and share the content, Inbox dollars receive the payment and you get a portion of that money.
You'll be watching videos ranging from different topics such as food, trending news topics, health, entertainment, technology, and celebrity gossip.
You can watch from 24-30 videos per day. The more videos you watch, the more money you make.
Inbox dollars is such a cool online cash reward site that you can work for and get some extra cash online.
Sign-up to InboxDollars today for free and start earning extra cash immediately.
Related:
3)Sell Your Crafts
You can make 3 sales- 700 sales a month. The amount you'll make will depend on what you are selling and your advertising efforts.
Are you architect, artist, craftsperson and have created some crafts.
You can sell your crafts at your local art fairs, but if you want to reach a bigger market you can sell your wares online through your websites or other websites such as Etsy.
Selling on Etsy
Etsy is a website that gives you a platform to sell your crafts online.
Whether your crafts are handmade or unique products such as vintage items, having an Etsy shop is a step in the right direction, in selling your crafts online.
Examples of What You Can Sell on Etsy;
Stickers
Knitting patterns
Jewelry
Enamel pins
Personalized bottles, glasses, and t-shirts
Greetings cards
WordPress Themes
Notebooks
Home decor,
Wedding decor,
Art print
Clip art
Etsy makes money by charging you a small fee when you list and sell your product. If your product sells, the website charges you a commission of 3.5% of the selling price.
And just like any other business, having a shop on Etsy is not for the faint-hearted. If you want to harvest big chunks of money, you must put in the hard work.
You must be passionate about art so that you can still do it no matter how much you make to be successful on Etsy.
Etsy gives you a way to go after your artistic passions and dreams, and also make money from your efforts. You'll be happy and satisfied to see other people love and value your work, hence willing to spend a dime on it.
4) Get Paid to Play Games Online
You can make up to $ 10 per hour depending on which site you are playing in.
These days, making money online can be more fun than you would ever think. If you love playing online games, you can make some cash doing so.
You just need some experience in gaming, a computer/ a smartphone, and a reliable internet connection.
Here are some of the best gaming sites you can join to make money.
Gamesville
Second life
Point Club
5)Become A Virtual Assistant
As a beginner, you can make $8- $10 per hour
As an expert, you can make $20 – $40 per hour
A virtual assistant is a professional who gives support services to various businesses from a remote location. Such services are; clerical work, bookkeeping, marketing, web design, and many others.
Simply put, a virtual assistant can do any other work a support staff can do apart from serving you coffee.
A virtual assistant frees up the time of the bosses so that they can focus more on activities that will bring them more money. Here are the companies that hire virtual assistants:
Boldly
Upwork.com
Indeed
Flexjobs
Belay
Day Translations
Fastly
Equivity
Here's what you need to become a virtual assistant.
A computer with dependable high-speed internet
Typing skills
Great researching skills
Tech Savy ; You need to know how to use Microsoft Suite and Google Suite
A reliable phone just in case you need to communicate with your clients through the phone
Exceptional communication skills
Enthusiasm to learn and the capability to comprehend tasks and directions quickly
6)Teach English Online
You can make anywhere between $10- $40 depending on the level of your qualification.
If your native language is English or your English skills are as polished as that of a native, then teaching English online could be your best side hustle.
Requirements for teaching English online
Webcam
Skype
Headset
Teslo/Tefl Certificate
High-speed internet connection
You also have to be patient and punctual
The pay is between $18-$26  per hour
Base pay is $9-$11 per half an hour
Bonus $1 per hour for showing up early and for teaching at peak times
If you refer other qualified teachers you earn $10 per resume.
Magic ears is a contemporary online learning platform for children in China from age 4 -12 yrs.
Teachers work from 5.pm to 9 p.m. Beijing time during the week and on weekends, between 9.a.m to 9 p.m. The teaching style is fun and interactive.
You can also work for VIP Kids
You earn 16-22 USD per hour with lessons ranging between 25-28 minutes.
VIP KIDS is a Company that hires teachers to teach English lessons online to children in China.
The kids have aged 3-14 yrs. To be eligible to teach you need to be qualified to teach in Canada and the US and to have worked for at least one year with the children. The lessons take place early in the mornings in (Beijing time) during the weekdays and in the evenings during the weekend.
If working with kids is fun for you and you are a morning person, then VIP Kids can be a good side hustle for you.
7)Deliver for Amazon
You earn $18-$25 per hour
You can be helping amazon to deliver products from regional centers to their customers' doorstep. This last-mile delivery service is known as Amazon flex.
How Amazon Flex Work
Amazon flex uses a two-shift system to enable the drivers to plan for when they need to work.
These shifts are guaranteed shifts and Drop-In shifts. Once you accept the shift, you follow these simple steps:
Scan your shift to know where the pickup station is located
Swipe "I have arrived" when you reach your pickup location to begin the shift
Get to your pickup area and remember to scan the packages individually as you pack them into your car
Make use of the Flex app as you drive to drop each package at the drop-off location
Deliver your packages and pay attention to each customer's instructions.
After you are done delivering, end your shift using this flex app to avoid returning the packages to pick up  station.
8)Start Your Money Making Blog
A blog is an online journal where you can be sharing your views on a given topic with your latest posts appearing first.
Your earnings will depend on the page views you get. Each page view fetches $10 – $60 per 1000 views depending on your niche.
However, this doesn't mean blogging is a get quick rich scheme. It takes A LOT of patience and you need to continuously put in work.
There will be times when you would feel you're on a road to nowhere, but then you gotta keep pushing to see those numbers pile up.
Several Ways you can make money blogging
Online Courses and Workshops
Books and EBooks
Affiliate Marketing
Advertising
Speaking Gigs
Consulting/Coaching
Selling Freelance Services
Bluehost is one of the top web hosting companies in 2020 and you can start your own blog with them for as low as $3.95 a month (this low price is through my link only)! Also, if you sign up using my link, then you will get your domain for free if you purchase a 12 month or longer hosting plan (a $15 value). I highly recommend signing up for the 12 month hosting plan through Bluehost. It's affordable and you can save a lot of money by signing up for at least 12 months. If you want a better deal, the best value would be purchasing a 36 month plan, as your monthly rate is much lower over the long run.
9)Create an Online Course
The amount of money you make will depend on how much your course is going for. Is it a $ 25 or $500 course? This will make a difference in your revenue goals.
The price of your course will depend on the resources you put in to create it.
You'll need to create an audience that you build through the email list, social media followers, and YouTube channel with active subscribers.
Also, you need to hone your marketing skills and ensure that your customers will be coming back for more products from you.
10)Learn To Flip Products On eBay
You can make $750-$3000 per month depending on what you're selling and how creative and careful you are with your planning.
Are you wondering how to sell your stuff?
Learning how to sell your stuff online or in-person is a great way to declutter, make some extra money, and reduce your stress.
You make money on eBay by buying products at a low price and then sell them at a high price. You do this over and over again.
11)Get Paid For Your Leisure Time And Internet Searching

Your financial needs are ever-increasing and finding a way to make more money in your leisure time could be the trick you desperately need to boost your earnings. That's where Swagbucks comes in.
Swagbucks is a popular reward program that offers cash and gift cards for the normal things you do online. You make money by:
Signing up to services
Playing games online and on your mobile
Entering competitions
Referring friends
Shopping online and earning cashback
Watching videos
making Swagbucks your default search engine
Completing surveys and polls
12)Write and Sell ebooks
You can $100- $100,000 depending on your luck
An ebook is an electronic book available in digital form and is read on computers, smartphones, and other electronic devices.
If you are an expert in a certain field you can write ebooks and sell them on the following websites:
Lulu
Amazon Kindle
Payhip
Tradebit
E-junkie
Kindle Money Mastery is a step-by-step program that teaches users how to make substantial profits just by selling simple kindle eBooks that generate passive income month after month.
13)Create WordPress Themes (for those who know Coding)
You could earn up to $500k yearly
You can also create WordPress themes and make a few bucks online if you are an expert in coding.
You can take classes at Udemy and learn to code. The charges range between $9-$30.
You can sell your themes at etsy, creative market and other places
These are the coding courses offered at udemy
Java
Ruby
C#
PHP
C++
JQuerry
14)Create Printables
Selling on Etsy, you can make up to $ 30k+ per month
Printables are documents that you can easily create and sell them to be used by consumers. They're easy to create and you can create them from the readily available materials.
Some of Printables you can easily make and sell are:
Stickers
Calenders
Financial planners
Trackers
Diet and fitness planners
Calenders/ Journals
Stationary
Checklists
You can create free printables using Canva
15)Affiliate Marketing
The idea is that you will research a potential niche that can be profitable, use SEO techniques and advertising to drive traffic to your website, and earn money by getting a commission for recommending products or services.
Affiliate marketing is when an online marketer pays you a commission for sales or traffic or generated from your referrals.
It's one of the easiest ways to make money online because you don't have to invest a dime in the trader's business, and you can promote several products from different merchants at the same time.
All you need to do is sign up for an affiliate program; start promoting the products or services and you get your paycheck, when people buy the products using your unique link.
To begin as an affiliate marketer, you need to pick your niche, build a site, produce superb content, create an audience, and then start campaigns for promoting your affiliate products.
Here are some websites that have affiliate marketing programs just in case you're wondering where to begin.
Maxbounty
ShareASale Affiliates
eBay Partners
Amazon Associates
Clickbank
Shopify Affiliate Program
16)Selling Tshirts online
You can engage your creative gear, design Tshirts, and make money online. You may not be successful in your first attempts to sell, but its fine.
You have to keep coming up with new designs and have a message targeting the right audience. You'll also need to pay for Facebook Ads to make big profits.
Always know that the amount of money you'll make will be in direct relation to the kind of work you'll put in.
Sell your well designed Tshirts on the following sites:
Bonfire
Sellmytees
Threadless
Cafepress
Teepublic
17) Become A Pinterest VA
A Pinterest virtual assistant is like any other regular virtual assistant, just that he/she specializes in working with tasks concerning Pinterest.
Starting a side hustle as a Pinterest virtual assistant is one of the BEST gigs out there. Who wouldn't want to get paid to play on Pinterest all day?
Every company that wants to stay on top of the competitive marketing game needs a Pinterest VA, because this site is growing at a very high rate and it'll soon become the people's choice for shopping.
You can earn up to $2000+ per month as a beginner.
You can perform different tasks as a Pinterest VA such as
Create well-designed pins
Automate your pin posts
Create and maintain business profiles
Make the best of the Rich pins
Write persuasive image descriptions
Be a Part of High-Traffic Group Boards.
Do you want to start living a more financially free life? Check out this FREE workshop to kick off your Pinterest VA career.
18)Become a Scopist
Your earnings will be up to $ 70k per year working full time.
A Scopist is someone who works with court sonographers to translate and edit the shorthand notation of court reporters into written court transcripts using computer software.
If you like working alone, working on computers, doing crossword puzzles and technology, you can make a good Scopist.
To succeed in scoping, you need to be good at listening, typing, punctuation, and spelling. You'll be trained online on how to get regular clients.
Scopist Traning To Help You Become A Scopist
You don't need to have a college degree to get a job as a Scopist. Hurray!!
However, becoming a Scopist from home is not something you can do without real knowledge or experience in the field, therefore, some form of training will be crucial to become good at any scoping jobs.
Linda has a free mini-course on scoping that gives you tons of important information
19)Become a Proofreader
Your earnings will be $ 25-$ 44 per hour
A proofreader ensures that a document read and looks its best before it's sent to print.
Your job will be to scan written materials for all sorts of errors such as grammar, spelling, and punctuation, and then mark them for correction.
Sites that hire proofreaders are:
Cactus global
Proofreading services
Wordvice
Proofreading pal
Prompt
To be a proficient proofreader, you must continue improving your skills every day.
Make sure you do a lot of reading and enroll in proofreading courses that will help you learn more.
The most popular and comprehensive course to learn how to become a proofreader from home is General Proofreading: Theory and Practice by Caitlyn Pyle.
You can learn more about how to start a proofreading side hustle by signing up for this workshop today.
This course is packed with valuable information that will:
teach you all about running a freelance business.
boost your proofreading skills.
20)Social Media Influencer
Depending on the number of followers you have, you can earn $30k-$60k per year
You can make money using social media services such as Instagram, Facebook, and Twitter. You can sign up for an affiliate program and promote products and services on your social media accounts.
The most effective and honest way of promoting your affiliate products is through your reviews.
If you use a product personally and you love it, and you surely know it'll interest your followers,  then sit down and write a review on your blog clearly depicting the cons and pros, and honestly share why you like that particular product.
You can even use a video if you like.  Reveal your affiliate relationships too. Your followers will value your honesty.
After crafting this review, share it with your friends on Facebook, Instagram, and twitter and make it shareable so that your friends can also share with their friends. This way, you're sure to make a return on your investment.
21)You Can Offer Graphic Design Services
You can make $10-20K per month
You don't need to be an expert in graphic design to make money online; you just need to be better than others.
You also don't require a college degree to be a successful graphic designer online. You only need to have a passion for design.
Your passion for design and the amount of hard work you'll put in will make you soar greater heights.  You'll make money online as a graphic designer by:
Creating image templates for Pinterest
Installing and customizing a WordPress theme
Creating logos and brand packages
Designing books and ebooks
22)Become a Website Flipper
You can make an extra $2k per month
Website flipping is buying websites, enhancing them a bit, and selling them later to make a profit.
You can build a niche site from scratch, make it a money generating platform, and then sell it to anyone interested.
To begin,
choose a niche and
pick a great keyword for your SEO campaigns.
Then you do Link building. These are the links that'll link to your website.
Next, sell the website at a profit.
Note, it's not as easy as it sounds. You got a lot of digging to do. It takes tremendous efforts to make a website popular.
For your website to grow, you have to keep making continuous efforts and be patient with it to grow. Note; no one will buy a site until it has performed well for a while.
23)Start Transcribing
Your earnings will range $25-$30 per hour
A transcriber is someone who listens to live or recorded audio files and converts them into the text of what he/she hears. If you pay attention to detail, can work efficiently and quickly, and produce high-quality transcripts, then transcription could be your calling.
Here are the sites you can find transcription jobs.
Gotranscript
Scribie Transcription
Transcribe me
Castingwords transcribing
Verbit Transcription
If you really want to start your work from home side hustle, you can learn it from Janet of Transcribe anywhere.
She is a Transcriber who runs an award-winning course, Transcribe Anywhere.
24)Start A YouTube Channel
You can earn $3-$30 per 1000 views depending on the niche you are.
You can make money through brand adsense, sponsorship, merchandise sales, and fan funding.
The trick to attracting a large fan base you should create great, rich, and engaging content.
Remember, viewers, go to YouTube to either look for solutions to problems they are facing or to be entertained. If you make valuable videos, they'll be liked and shared widely, hence more money in your pockets.
Most Profitable Niches on YouTube
Technology
Personal Finance (make money online, investment, saving money ideas)
Fashion
Gaming
Cooking Videos etc
25)Sell Stock Photos Online
You can make an extra $150-$300 a month
The demand for self-publishing (through e-books and blogs) is gaining traction and the need for stock photography is growing rapidly.
Several sites have come up to provide cheap images to business owners, authors, designers, and bloggers with an option to choose from various licenses for different uses.
Your stock photos can be used in blog articles, posters, websites designs, newsletters, and company reports
Learn the secrets of making money through taking pictures and uploading them to the internet.
That said, you can sell your photos and make money on the following sites:
Getty Images
iStock photo
can stock photo
Fotolia and Adobe Stock
Shutterstock
Wrapping Up
Now that you know the various ways you can make money online, take a step now and choose the one that is the most appropriate to you, and enjoy the financial freedom that you have always wanted, right in the comfort of your home.