25 Best Money-Making Apps You Can Use To Earn Extra Money
Perhaps you've been spending a lot of time scrolling through your phone. That means you are always on your smartphone.
While interacting on Facebook or other social media platforms is right, these things alone will not increase your income.
Instead, you can earn extra income by helping various companies produce high-quality products by taking short surveys.
So, spend your free time well by installing a mobile app that will help you make money.
We have top money making apps for iPhone and Android phones that will pay you real money to perform small tasks.
While most people think that there is a catch involved, the truth there isn't.
There're many free and legitimate apps that let you make some cash by watching videos, completing surveys, sharing photos, secrete shopping, and many more.
Let's look at 25 best money making apps for 2020, that pay cash or free gift cards.
This post contains affiliate links. Please, read my affiliate disclaimer for more details

1. SWAGBUCKS
Swagbucks allows you to earn a few bucks through your smartphone in very many ways.
Did you know that you get a bonus of $10 once you sign up?
Swagbucks is the fun rewards program that gives you free gift cards and cash for the everyday things you already do online!
That makes Swagbucks the best app for making money.
It allows users to get SB reward points by completing paid surveys, watching videos, playing games, shopping online, and searching the web.
Then, you can redeem your reward points for money transferred to your PayPal account.
Alternatively, you can claim your gift cards to more than 15000 retailers such as Amazon and Walmart.
The most exciting thing is that there is no limitation to how much you can make.
While you might not earn as much as you get from your full-time employment, but you can increase your income by up to $50 by playing games and completing a few surveys.
Click here to join Swagbucks and start earning today!
2. SURVEY JUNKIE
This is an easy and fun way to make some extra money online quickly by sharing your opinion.
You can download the Survey Junkie app to take surveys, try new offers or participate in focus group discussions and get paid for it.
Survey Junkie is free to join and 100% legit. Their rewards program offers popular gift cards and cash out via PayPal.
Be an influencer. Share your opinion to help brands deliver better products & services.
Click here to learn more about Survey Junkie!
3. INBOXDOLLARS
InboxDollars pays members to read emails, take surveys online, play games, and go shopping!
New users also receive $5 just for joining.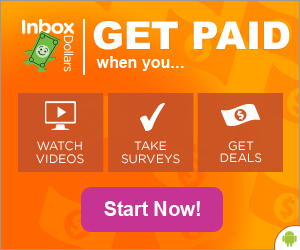 Get paid for:
– Taking surveys
– Reading emails
– Completing offers
– Playing games
– Shopping online


Once you reach $30 in your account, you'll be able to cash out with a check or gift card.
The more activities you do, the quicker you get paid!

Download InboxDollars today for free and start earning extra cash immediately.
4. VINDALE RESEARCH

Vindale Research is a secure, reliable and free survey site for anyone who wants to earn money online.
Browse current surveys in a list on the website, or have us email you when new surveys come in that you qualify for.
In addition to the survey money, you get a free $1 welcome bonus that's credited to your account immediately you sign up.
Vindale Research has simple tasks such as;
Review products and take simple online surveys
Make a difference by sharing your opinion
Receive up to $50 per survey completed
Choose to keep the products that you review
It is 100% Free. Click Here To Get Started
5.PANDA RESEARCH
Panda Research is looking for people to participate in Paid Online Surveys
Panda Research will pay you for each successful offer/survey completed! and also you can earn additional income for every email you read! How simple is that!!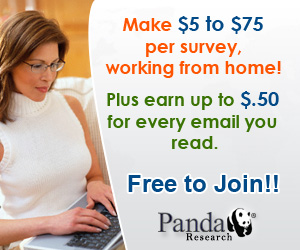 Learn how you can receive coupons, discounts, and giveaways with your participation in the offers and surveys
They have a Referral Program where you can just recommend the app to your friends and earn additional income
You can Earn Additional Income by reading emails (Maximum $25 per payout)
The great thing about Panda Research is that you get paid by the 1st and 15th every month though Paypal.
Click here to get the Panda Research app and receive your $3.00 sign up bonus!
6.CLEO
Play games and get quizzed to build financial awareness and potentially win some cash.
Cleo also helps you to budget, save and track your spending.
You can play games and get quizzed to build financial awareness and potentially win some cash

Ask Cleo anything from 'what's my balance' to 'can I afford a coffee', and she'll do the calculations instantly.
Cleo will help you to Make Budgets and Crush your Goals.
Download Cleo now to start earning and saving money
Do you like playing games?
Do you want to earn money while playing games?
Are you looking for the app that pays you for playing games?
Introducing GIFTPLAY, the app that allows you to make money and earn gift cards by playing games, no purchase is necessary, no paying to win 💰🎮
How does it work?
🎮 Discover and play new mobile games
💎 Collect coins from playing games. The longer you play the bigger your coins
🎁 Redeem your coins for amazing rewards
🤝Invite your friends and earn more coins
🥇 Collect all the badges
You will accrue coins as you play and meet the duration requirements. Redeem your coins for a PayPal cash out, or for a variety of top branded gift cards like Amazon, Google Play, iTunes, etc.
8. DROP APP-CASH REWARDS
Drop is a free app that's giving out millions in cash rewards for the spending you do every day with your credit/debit card.
Users simply have to download the Drop app, sign up and link their debit and credit cards, shop at their favorite places, start earning points and get cash rewards!

Whether you're reserving flights from Expedia or ordering food from places like Postmates, you can shop directly from the Drop app.
A user will earn $3 per survey !
Pinecone is another unique survey website as compared to the rest.
Why am I saying so, you will have to be invited and qualify before joining.
Sounds difficult, doesn't it? Lucky for you I already have the link for you to join.
Pinecone Research signup links for Americans, Canadians, and people living in the UK: » Click here to join Pinecone Research.
However, they are fully legit and once you sign up you can start your surveys immediately.
You can earn from $3 to $6 depending on the type of survey you are undertaking.
10. INSTACART
This is a simple mobile app that helps you earn by delivering foodstuff to people who don't have time for shopping.
The app allows you to be a personal grocery shopper where you do both shopping and delivery of groceries.
The amount you make depends on numerous factors like the size of the orders and the distance covered for every trip.
Besides the payment, you will get tips that come from Instacart.
The majority of people make up to $15 per hour.
11. RAKUTEN
Once you shop at your favorite store, either in person or online, you receive a cashback on what you spend.
You can take advantage of occasions such as holidays and promotions to get up to 12% of cashback.
Additionally, they give you $10 for signing up. Sign in to your account and look for the retailer you want to shop with.
You'll be directed to their eCommerce site and start accumulating reward points as you purchase. You will either redeem the points for cash or gift cards.
12.OPINION WORLD
Smartphone users have a chance to complete Google surveys and get play credits worth up to $1.
OpinionWorld is a FREE sign up offer that offers users rewards for giving their opinions in Australia. Simply sign up, earn points for taking surveys, and redeem points for rewards.
However, the credits tend to vary based on the surveys completed.
Install the app to your android device, provide your personal details, and wait for your first task, anticipate to get at least one survey task per week.
The assignments will cover various topics like "when are you planning to travel, or which is the best logo?"
13. IBOTTA
Get your cashback once you shop online, submit a receipt, or link a loyalty account by having the Ibotta app on your Android or iOS device.
Before you start to shop online, go to Ibotta, and unlock cash reward by doing simple tasks.
After you're done with the shopping, scan the barcodes in your products and submit the image of the receipts for the purchase to be verified.
If you intend to use a loyalty card, make sure you scan the card or provide your number.
14. UBER EATS
Currently, many people are using Uber Eats to deliver food since it is a flexible and simple means to make cash.
You can make the deliveries at any time of the day when it feels convenient for you.
Once you get approved, you log in to the app and start getting delivery requests.
The moment you complete the delivery, you can either sign off for a couple of hours or take another delivery offer instantly.
15. REAL SURVEYS THAT PAY
Do you want to earn cash taking surveys?
Sign up with Real Surveys That Pay to get access to surveys, trial offers, and questionnaires that pay out cash for completion.
Get paid how you want – gift cards, paypal, or a check straight to your door.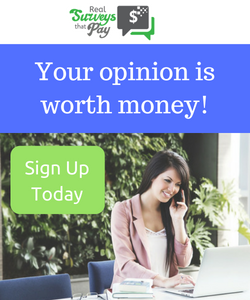 16. NIELSEN
Do you love browsing the internet? Well, Register your device and earn rewards with the Nielsen app.
By participating in Nielsen research, you can improve the products and services you use online today.
Nielsen Computer and Mobile Panel combines your unique internet usage with people like you to build a picture of internet behavior.
By using the internet as you do every day, Nielsen invites you to make a difference – and you can win prizes! Nielsen gives away $1,000 each month
Start earning as soon as you download the  Nielsen AppNielsen Germany hereNielsen Uk here
17. BLOOOM
Are you looking for different ways to make your 401K profitable? Blooom is the robo advisor for your 401k.
For a flat $10 a month, blooom will pick the funds in your 401k that best align to your retirement goals while also minimizing hidden fees so you can "set it and forget it".
Blooom will help you find out about;
Hidden Fees- Find out how much you're losing to hidden investment management fees.
Stock/Bond Mix- Find out if your investments are too aggressive or conservative.
Opportunity Cost- Find out how much you could be missing out on by DIY-ing your 401k.
18.CLASHOT
Earn by taking pictures of cities, arts, food, among other things with your phone, and sell them on Depositphotos.
iOS and Android users can sell their photos for up to $80, with royalties averaging at 44% per sale.
You must create a Clashot account, post a photo with a comprehensive description and model release.
You will start selling once you complete the verification process.
19.BOOKSCOUTER
Make a few bucks by selling the books you no longer need.
This android or iOS app lets you can or even provide the barcode figures to compare buyback rates from top book-buying sites promptly.
Choose the vendor that offers the highest price and ship your books for free. Registration is simple.
Create an account using your email address or sign in via a host of eligible social networks.
20.MONEY MACHINE APP
Make quick money by doing some easy tasks such as downloading mobile apps and watching videos.
The tasks are available every day, and this allows you to earn more points that you can trade for in different offers or cashed in through PayPal.
You can get referral points by recommending the app to your friends.
21.LYFT
If you are always free and reside in a busy town, serving as a Lyft driver is an ideal way to make extra money.
Currently, they have a where a new driver gets a bonus of $1000 once he or she completes the 125th ride.
Start immediately and work during weekends to unlock the bonus in a couple of weeks of driving. This bonus will increase your earnings instantly.
22.ICONZOOMER
Earn extra by sharing snapshots of your daily activities.
Get the app on your Android or iOS device, edit your profile, and wait for the assignments to be posted.
You will be asked to take photos of things such as what will you eat for dinner or the clothes you are wearing.
Review the products you've photographed and submitted the photo to get 5 credits.
You can cash out through PayPal once you have more than 200 credits in your account.
23.HEALTHYWAGE
The app gives you numerous ways to make extra money.
For instance, you can start the weight loss challenge on your own, or you can do it as a term and motivate one another to get rid of some calories.
The payout will depend on the percentage of weight you will lose.
24. SURVEY VOICES
Take surveys and get paid at Survey Voices! SurveyVoices is the most dedicated PAID SURVEY company that matches you with the most exclusive offers and highest paid market research opportunities
You can make $800/week completing surveys!
View exclusive offers in exchange for your valued opinions. Participation is 100% optional.
All you need to do is instantly qualify, then view exclusive offers in exchange for your opinions and get access to paid surveys, clinical trial opportunities, and part-time work offers!
Join For Free Today and Start Earning
25. ROVER
Are you a pet lover?
Rover is the latest app that aims to connect dog owners with dog walkers or dog sitters.
That implies that you get a chance to spend with these lovely animals and earn using your smartphone during the process.
A dog sitter can earn up to $100 per night if they sit more than one dog at a time.
A 30-minute walk with the dog can fetch you $30.
26. MOBEE
Earn cash by shopping at any business in your neighborhood.
Download the Mobee app for your Android or iOS device and look for the tasks which interest you.
You will need a couple of minutes to answer those questions asked, and in 24 hours, you will qualify to get quality and credit reward points.
Anticipate getting between 150 reward points that are equivalent to $1.5 and 3000 reward points that are equivalent to $30.
Final word
The Internet has made earning money an easy task. You will be shocked by the amount of money you can make with a single app or several of them.
Completing even one task from a particular platform is a better way to make and save money.
Therefore, make your informed decision and choose the apps that you like to avoid wasting time using the platform.